The Arctic Monkeys stormed Finsbury park on both Friday and Saturday of the late May bank holiday, with an impressive stage set to boot and a very loud 70,000 ensemble of true fans.
The bill suited them perfectly. Royal Blood were absolutely rocking, and are definitely less like the White Stripes then The Black Keys are. These two boys don't muck about, they don't have anyone else on stage. "Let me introduce you to the rest of my band" singer Mike Kerr announced proudly, "this is Ben Thatcher". Ben is one of the hardest hitting drummers I have seen, nearly always breaking drum sticks - and they only play 5 songs at a time. Mike, somehow uses just a bass to create that wall of noise. Pretenders they are not. They will be big as soon as they get around to releasing that album of hits. I did hope for a July release, who knows maybe they will announce it soon after the two biggest gigs of their careers?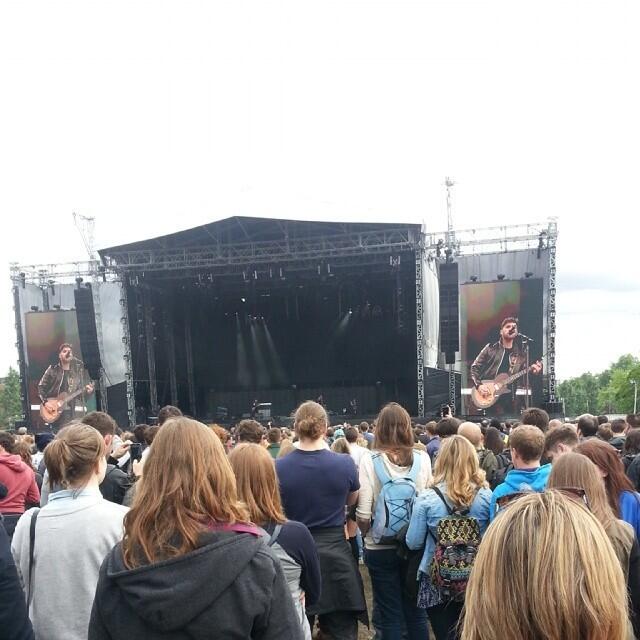 Miles Kane followed and was as always full of confidence, cheekiness and smiles all round. I particularly loved him toying with the camera and visibly having a laugh with the drummer whilst doing so, announcing to the crowd "that isn't loud enough Finsbury" slyly into the overly-fixed camera. The drummer as always is phenomenal, and looks amazingly like Arshavin and about 14 years old, still. His ability to have a joke with the band and keep the beat to 'Rearrange' is astounding. He still needs to have another album of hits behind him, lest we not forget most of the big hitters on the first were written with or by Alex, and the second with Paul Weller.
Tame Impala were... tame. They did not suit the barmy crowd. Musically talented, and the absolute tunes that are 'Elephant' and the Beatles-esque 'Feels Like We Only Go Backwards' doesn't make up for a lack of enthusiasm, and doesn't create an atmosphere of euphoria in the company of thousands of northerners. Let's leave it at that, shall we.
Then the main entertainment arrived, after 20 minutes of very odd choreographed collection of animated clips. One included wax brides you'd find on a cake slowly burning over a minute whilst Bowie played in the background. Pretty damn odd. What was not odd however was the mammoth noise level when the now accustomed intro to their gigs rang out. What was unbelievably classy was as soon as the beat kicked in, it was revealed that the stage span round, with the band in full swing with 'Do I Wanna Know?'. Very cool.
Alex Turner was quite visibly pissed out of his face, but rocked a Dracula look for some reason. Not sure on that, maybe one of his Sheffield mates told him it looked good?
The setlist was a bit odd for the band. They only played two songs each of their first and third albums, with only three from their second. Humbug is an era I really crave to hear again, but they were not in the mood to hang on nostalgia. 'AM' was played in full minus one song, which is pretty much a non-issue considering its strength, but considering they had brought back older hits recently into their set like 'Dancing Shoes', it would be nice to see a few more. 21 songs is not enough songs for a band whose songs are not particularly long, and only play their biggest headline set yet for an hour and a half. Less cocaine, more songs. I know the mixture hits him hard brick by brick, but snap out of it and play some more hits, and less practicing of those lines, please.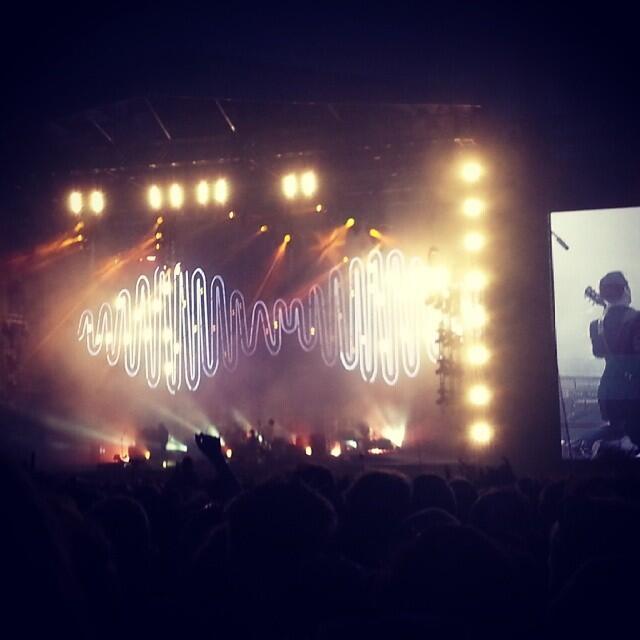 The gigs were a resounding success, and they proved that they have nothing left to prove to their fans. Now that they've achieved that, they can next time release new music and start playing *finally* a longer set, and they'll be hailed as Jesus figures by NME. Then they'll be a bank holiday for their birthdays, if they got their petty ways.
Alex played an acoustic version of 'A Certain Romance' on the Friday, instead of The Last Shadow Puppets performing on stage to play 'Standing Next To Me' on Saturday. It was accompanied by some funny interplay between Miles and Alex: "What should about the solo Milesssss", "I'm not sure, maybe sing some French? (sings French)". Hilarious and brilliant - oddly, Miles did not come on for '505'. Can't wait for their next one together, despite no-one around me knowing any of the words. 'Fans', eh.
You can see the
setlist
they played on Friday in full below:
(Began whilst turning 180 … more)

(

with snippet of "War Pigs" by Black Sabbath

)

Encore: