This past Saturday, Bombay Bicycle Club put a period on the end of Earl's Court's history. After the likes of Pink Floyd and Led Zeppelin had played their over 30 times combined, it was Bombay's first time at the venue. It would also be their last, and the venues.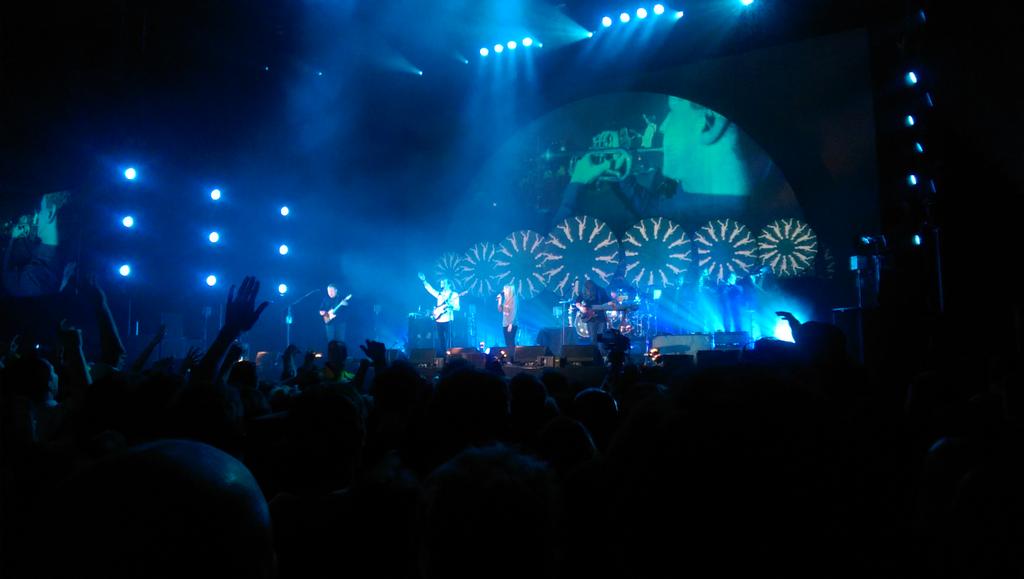 Raising an arm to the crowd, Bombay kick off their farewell to the venue
Whilst the venue is a great loss to those bands that haven't quite made the leap from small venues to Wembley quite yet (they aren't ginger and play half size guitars, after all - sorry not sorry Ed), it isn't going to be missed in terms of audio. I have been to Earl's Court for a few gigs now, and have always been let down by the echoey, muffled sound. If you have never experienced this, imagine the Chilean miners playing tunes off their iPods when they were stuck down there. Now multiply that a few times. The location isn't great either really, with venus like The O2 arena being far easier (for me) to get to, with restaurants surrounding it and better acoustics.
The history is crazy, though. Bombay were lucky enough to bring on David Gilmour halfway through their set, as guitarist Jamie MacColl introduced him as "the man who gave me my first guitar" and having "played here by my count 27 times". That's quite a feet, for any venue. Let alone a 20,000 capacity arena.
Moving on from the history and small talk, let's get to Bombay themselves, shall we?
They played a career spanning set, obviously. They managed to fit in their medley of The Giantess/Emergency Contraception Blues which is always received well by their loyal fans, along with hit singles from all of their albums. The new material blended... oddly with the old. The indian sounding "Feel" is so different to something like "Rinse Me Down", it sticks out.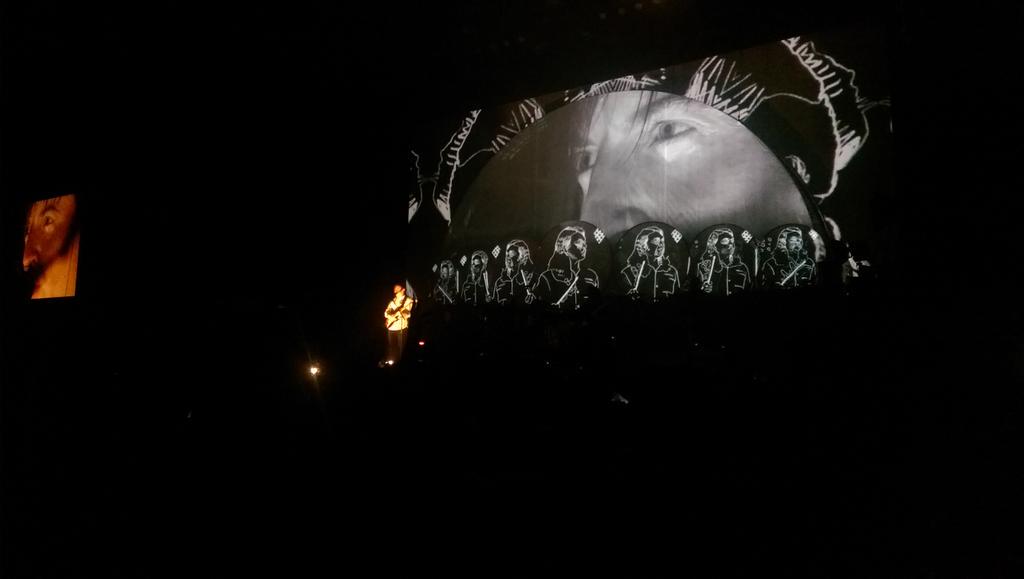 Jack glares at the crowd
The show was certainly a spectacle, with firework sparklers, glitter confetti cannons as well as many buckets of the stuff falling from the ceiling. As graceful as the band took to the stage, to chants of "let it down" after the band aired their previously premiered spoof documentary, set in the future, looking back at the gig as a "peak" with the band having moved on. It's certainly worth a watch, with Guy Garvey's participation a treat, certainly!
Peace and Sivu provided support before Bombay took to the stage, with Peace boldly covering Led Zeppelin's "Since I've Been Loving You". Boy, did they get it *so* right. Harry's guitar work shon, with improvised guitar shining through, and certainly wowing the crowd. The new songs fitted in perfectly with their earlier efforts, and they are one step closer to sounding like Primal Scream every day with "Gen Strange". Sivu, was elegant and diligent in his performance, with Lucy Rose on bass and keys. The sounds his band produce are unique, as is his Finish stage name, for a man that goes by James on his bank statements. They both provided adequate support for Bombay, and I am sure many other bands would have jumped at the chance to play on Earl's Court's death bed.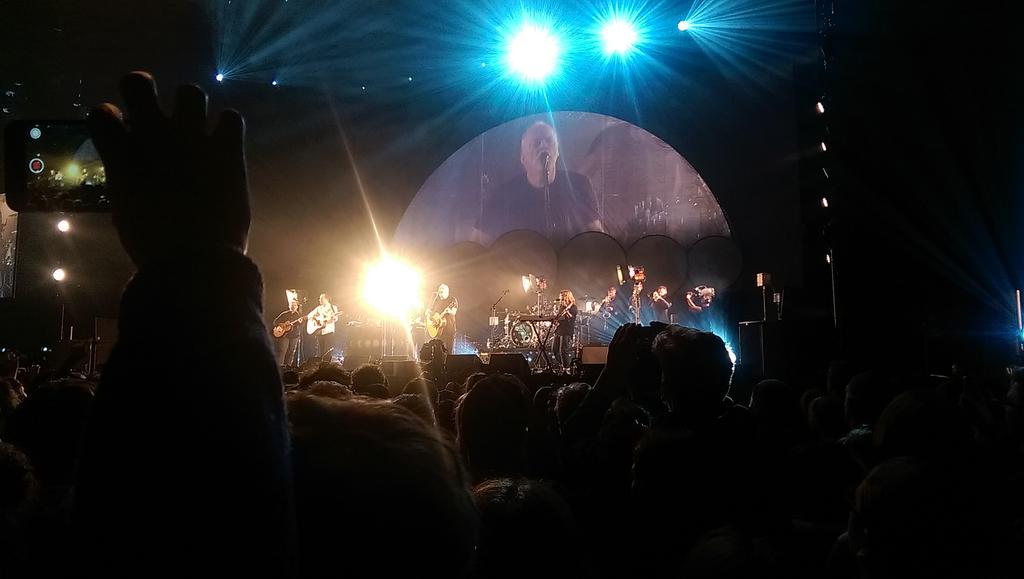 David Gilmour takes to the stage to play "Wish You Were Here"
The band have since announced that they will be having a quiet next year, and with no dates planned so far, I can see it being very quiet. Why not? Afterall, they did just bring a fitting end to 77 years of music, with their own brilliance being the cherry on top. A very sweet, fun and perhaps a bit shy cherry. One of those ones.
Bombay played:
Overdone
Come To
It's Alright Now
Shuffle
Lights Out, Words Gone
Your Eyes
Home By Now
Whenever, Wherever
Rinse Me Down
Wish You Were Here
Ivy & Gold
The Giantess/Emergency Contraception Blues
Evening/Morning
Dust On The Ground
How Can You Swallow So Much Sleep
Feel
Luna
Always Like This
So Long, See You Tomorrow
What If
Carry Me